A Novel Idea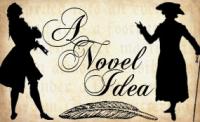 Printer-Friendly Version
He wrote the word with great care, adding loops and curlicues that it might be rendered more attractive to the reader. Then, as the candle guttered, he stared helplessly. From that first, grand word came no flood of others.
JOHN MACKAY-WHYTE, ESQUIRE, and Gordon Gilbey Boodles, Esquire, climbed down from their hired hackney coach, paid the coachman, and, stepping backward, blundered into the stream of reeking sewage that meandered down the cobblestone street. Kicking the biggest pieces of shit from their broad-topped boots, they shouldered their way into the noisy rabble that crowded the mongers' filthy stalls. High above, the setting sun lit London's soot-stained air with a glow that anywhere else might be called roseate. In such poverty-stricken quarters, however, the finest adjective that could be afforded was red.
At first glance, Mackay-Whyte and Boodles appeared to be gentlemen. Upon closer inspection, however, the threadbare quality of their clothing—Mackay-Whyte's frayed waistcoat, Boodles' laddered stockings—suggested that they were men of low birth wearing fancy dress. Or, perhaps, actors. But the truth was far worse—for they were men of letters.
The two men made their way into a narrow lane, where the hipped and elbowed upper stories blotted any lingering sun from the sky. The lamplighter had not passed yet, nor would he ever—for the streets of Cheapside had no gas lamps—and the two men were forced to find their way guided by the eerie glow from linen window coverings. They turned into an even narrower alley, then into a footpath, and then, finally, after making a staccato rap on an almost invisible door, stooped under a lintel and stepped into a room lit by guttering candles and flickering firelight. This was the Foolscap Club, whose members sought safe haven for their peculiar blend of versification, declamation, and inebriation.
Following the custom of the club, Boodles put his iPhone on mute and concealed it in a curious little pocket in his traveling cloak, sewn expressly for such oddments.
Mackay-Whyte hailed the clubman. "Good man Rumbuttle, we require but two tankards of your finest ale and whatever victuals you have on offer. The journey from His Majesty's Colleges has fatigued us."
"Still adjunct faculty, huh?" inquired Rumbuttle.
Mackay-Whyte nodded in affirmation, a vague but thoughtful smile creasing his visage.
Rumbuttle worked the hand pump of the beer engine but no ale poured forth. "Sorry, guys, keg's dry. Can I get you something else?"
"A night like this puts one in mind for a proper toddy, does it not?" suggested Boodles.
"Indeed it does," answered Mackay-Whyte. "Two hot toddies, good Rumbuttle!"
"No problem," answered the clubman.
Mackay-Whyte and Boodles sat down at a table near to the fire and watched as Rumbuttle played the optics like a virtuoso, filling a pitcher with equal parts Holland gin, Jamaica rum, Dutch Curaçao, Russian vodka, José Cuervo Gold tequila, and but the merest dash of Coca-Cola. Then, seizing a red-hot poker from the fire, he stirred the potion until it hissed and steamed. Pouring equal portions into two tankards, he served them with a plate of pickled pigs' knuckles and was gone.
"So, Boodles," said Mackay-Whyte. "Read anything good lately?"
"Alack, I have read little that interests me, Mackay-Whyte."
"A shame that paper is so dear and printing so primitive. Were it otherwise, we might not be dependent upon the whims of theatrical impresarios."
"But what would have us read, the drama? Playwrights' words are far better voiced by those that have training for it than within the proscenium arch of our own craniums."
"No, no, dear Boodles. I would not suggest you read silently words best said aloud. I propose something entirely different."
"Some new Art, you suggest?"
Mackay-Whyte nodded, sipped his drink, and, having burned his lips on his scalding tankard, searched for a glass of ice water. Alas, London's water being unpotable and ice cubes having not yet been invented, his search was fruitless.
"A new Art?" continued Boodles, astounded. "The ancients gave us verse and drama, our ancestors gave us painting and sculpture and music—what else could there possibly be?"
"I speak of a new written Art, akin to verse and drama, yet just as you suggested: a drama that plays entirely upon the stage of your own mind," rasped Mackay-Whyte.
"But how will we know it is performed as its creator intended? Mr. Marlowe, for instance, writes a direction for his players. Exeunt, flourish, and so forth."
"In this new form, the author will write directions for the layman. If a character speaks a line, the author tells us how it is spoken. I imagine it thusly: 'But Mr. Rochester, surely you don't mean . . .' she interjected bashfully."
"I am no trained thespian."
"But your audience, surely, is only yourself. Might it not be amusing to perform the drama? You are the director! You are all the players of the company!"
Boodles gnawed politely on a pig's knuckle. "An intriguing concept," he conceded. "To put on a play with oneself."
"To give oneself pleasure, as it were, far from the thrust of the stage and the hot embrace of the groundlings."
"Yes—one could do it even in bed, could one not?"
Mackay-Whyte sighed contentedly, picturing solitary pleasures.
"Might not a woman also enjoy what is written?" inquired Boodles.
Mackay-Whyte laughed. "If a man chooses to read to a woman, that is his business, and not ours."
Their toddies cooled, the men of letters sipped and supped until their unquiet bellies were soothed, then hailed Rumbuttle for another round.
"What then would you call this new Art, my good sir?" asked Boodles, belching daintily into his cupped palm. "L'Affaire des Lettres, perhaps."
"I daresay I should prefer a term like Novel, for, truly, it is something new."
"I like your way better. But who should write this Novel? It is all very well for you to demand a new Art, but you will need new Artists."
"My good Boodles, I thought that was perfectly obvious. Evidently, I shall have to be bolder: I feel the first Novel should be written by you."
INTRIGUED BY MACKAY-WHYTE'S NOTION, and flattered by his friend's faith in his abilities, that very night Boodles began to write his Novel—that is, he began to think about writing it. His brain fevered with excitement, he unlaced his blouse and paced his chambers until, finally, it was time to begin. He sat down, sharpened a quill, and took the wax seal off a small pot of India ink. Dipping the quill, he gently drew the bead of ink off on the lip of the pot and paused, his writing instrument poised over the parchment.
"'Tis the first word, surely, that is hardest," he muttered. "The first word is the sire, the pater, the promulgator, the forebear from which all other words will flow. How shameful if it were to be a word of little consequence, such as a, an, or the. Or or, for that matter. No, it should be a grand word, one with many letters, such as antediluvian."
He wrote the word with great care, adding loops and curlicues that it might be rendered more attractive to the reader. Then, as the candle guttered, he stared helplessly. From that first, grand word came no flood of others.
"Blast!" he cried.
Throwing down his quill, he stood and busied himself with needless diversions. Setting his wig upon a plaster bust of Virgil, he brushed and powdered it with care. He rubbed off his beauty spot, which, he discovered to his dismay in the looking-glass, had somehow become a beauty smudge. Why had no one told him? He gazed at the wireless, but the Beeb had stopped broadcasting hours earlier. Then, with the renewed vigor that comes from lack of purpose, he began organizing his possessions, from the relics of dubious origin that he, against his better judgment, was always buying from street vendors, to his stockings, French postcards, and scraps of erotic doggerel.
As rosy-fingered dawn caressed the leaded diamonds of his window, he was stripped to the waist, scrubbing his own floor like a charwoman.
There was a knock at the door and Mackay-Whyte let himself in. Seeing the immaculate state of Boodles' chambers, he raised his eyebrows in surprise.
Flinging the brush aside, Boodles rushed to his friend, prostrated himself, and began weeping. "My god, man! This new Art cannot be created by one man alone. You have ruined me!"
Mackay-Whyte helped his friend to his feet. "Ruined you? Does not the new Art nourish your soul?"
Reclining on a fainting couch whose horsehair stuffing sprouted like wheat, Boodles shook his head. "Oh, I'm sure it can. But the devil if I know how to get started. I shouldn't use language like this, but it's bloody awful. Bloody! There—I've said it."
Mackay-Whyte went to the sideboard and poured a glass of water from the Brita pitcher standing there. He brought the water to Boodles.
Boodles drank it gratefully. "If only there were some kind of way post, a book instructing one how to write books—how to unleash one's inner creativity to write the Novel, preferably in a round number of days, such as thirty."
Mackay-Whyte shook his head. "It is sheer foolishness to think that the creation of Art can be codified as if it was but a laundering list. No man may dare presume to understand the Muses!"
"But how shall I begin? I had thought with a large word, full of many letters—a noble word—but, alack, 'twas not to be."
"If ye seek to stir the reader's breast, should ye not begin with that which is common to all men?"
"You would have me write pornography!"
"No, gentle Boodles. I have no wish to see you rot in the Tower of London. Think not with the smaller head."
"Do you mean men's souls?"
"I would wait until chapter two to address the soul."
"But then—what?"
"In your Novel Art, you will undoubtedly address philosophical and theosophical conundrums. But you are writing not to obtain tenure. You are writing to entertain! By necessity you must disguise your aim with a simpler story."
"You mean a fable!"
"There can be but one Aesop. And you are not writing moral instruction for children. You are to capture life as it is lived, in all its rich complexity, reserving lessons for teachers and moral judgment for clerics."
"No moral judgment? Again, you will have me in irons, Mackay-Whyte. You should write this Novel, for you understand it better than I ever will."
With the hem of his shirtsleeve, Mackay-Whyte rubbed a peephole on the dirty window and stared out thoughtfully. "You are kind to say so, Boodles, but I have another role to play."
"What is it, man?"
"All in good time. Back to your beginning. What do men talk about every day?"
"Women?"
"You forget the Greeks."
"Football, then."
"Not invented yet."
"The weather?"
"You have it in one. Three, rather. Yes, the weather. All men seek to understand it. And, in your Novelistic Art, the weather shall be proxy for man's soul. Now, who is your hero? Is he calm and superior?"
"No—a seeker."
"His temperament?"
"Tormented."
"Is it day or night when your Novel begins?"
"Night, I should say."
"The weather?"
"Poor."
"Now this: when your Hero looks out his window, what does he see?"
"A dark and . . . stormy . . . night?"
Mackay-Whyte hurrahed, clapped his hands, and began gathering his cloak. "Boodles, you shall belong to the ages!"
"Don't go, my friend. Not while I still lack a subject."
"You will not find your subject here. You will find it in the thoroughfares—where life is lived."
AFTER MACKAY-WHYTE'S DEPARTURE, Boodles dressed, perfumed his clothing, powdered his face, and applied a generously proportioned beauty spot—then a second one, for good luck. He strode out his door, passed under the construction scaffolding for the Westway flyover, and made his way to the broad, majestic Thames. The sprawling metropolis was yet quiet, and no one troubled him as he picked his way over the unconscious bodies of gin drinkers, sleeping policemen, and gruesomely murdered prostitutes.
At the riverbank, he watched a motley flotilla of fishing boats and ferries, prison barges and pirate ships, as they navigated the reeking, sewage-choked waters. Not 40 yards away, a half-dozen riverboat men had rafted their leaky-looking craft together at the shoreline. Then, suddenly, the door of a pilot house burst open and a barefoot boy, no more than 10, rushed out and flung himself over the rail into the muddy current. He was followed by a fearsome man with a patch over one eye, a hook for a hand, and a poorly carved peg leg—all of them on the left. Muttering curses through a beard like a bootblack's brush, the man fished the boy out of the water with a boat hook and smote him to the ground. Kicked and crying, the shivering child crawled back to the pilothouse.
Life as it is lived, thought Boodles sorrowfully. Then he turned on his heel and strode back to his chambers. Sitting down at his desk, he seized his quill and began to write:
"It was a dark and stormy night when the teenage vampires began, despite their seeming modernity, to behave in a manner most similar to the characters of their literary heroine, Jane Austen."
What is a vampire? wondered Boodles. And who is Jane Austen?
He lived the next weeks as a fever dream. He wrote through the day and long into the night, pausing only to eat or to fling the contents of his brimming chamber pot into the street below. Sleep sometimes took him midsentence, but when rosy-fingered dawn again lit the wine-dark waters of the Thames, he lifted his head, blotted the drool from his manuscript, and finished his thought. He filled page after page, revising his words with furious inky scribbles. He lapsed into slant-rhyme iambic pentameter and then forcibly broke the couplets into naturalistic sentences. He tried to use slang but found it fucking difficult.
But then, finally—it was done.
Summoning the landlord's idiot son, he gave the boy a coin and bade him carry the manuscript swiftly to Mackay-Whyte.
"Stop neither for wantons, nor wastrels, nor to gape at the dumb-show or mummers. Vouchsafe these pages with your very life, for you carry the course of history in your rough hands."
The boy gaped at him. "Cor. So, what's it like, then?"
"It is a tale of callow youth, supernatural beings, and blood-sucking nasties. And, of course, there is a moral message, cleverly disguised."
"Does it have a wizard in it?"
"Don't be silly. No one wants to read about wizards."
WHEN MACKAY-WHYTE RETURNED to Boodles' chambers two days later, he found Boodles typing on his MacBook, wearing a black cashmere turtleneck, his hair combed back into a sleek ponytail, sipping a caramel macchiato in a to-go cup.
"Boodles," said Mackay-Whyte. "The MacBook hasn't been invented yet."
"Pity," replied Boodles, closing the laptop. "'Tis a clever device, even if it is Scottish."
A digital alarm clock suddenly began beeping.
"Sometimes I think I'm the only one who gives a toss about verisimilitude," complained Mackay-Whyte.
"A writer, even yours, may choose the details as he sees fit," replied Boodles as he pressed the snooze button.
Nervous, Mackay-Whyte looked up, searching for signs of his creator, but all he saw was the ceiling.
"But what did you think of the first Novel?" asked Boodles brightly. "I must confess that, though I thought you were mad, I see now the sense of it. As the humors of my creation grew ever more robust, the more I became convinced that, yes, the world is crying out for this new Art. And it is my privilege to give it to them—to have become the First Novelist."
Mackay-Whyte opened the flap of his large sealskin wallet and removed the manuscript.
"It wants a title," he said, handing the pages to their author.
"A title? I thought we could simply call it The Novel."
"But what of future Novels? What shall they call themselves?"
"You are right, good Mackay-Whyte. Let us call it The First Novel: Being a Work of Noble Art Written in Good Faith by Gordon Gilbey Boodles, Esquire; Depicting Fearsome Beings Not of This World, and Also Teenagers; but Containing a Moral Lesson, Cleverly Disguised; and All Similarities to Real Persons, Living or Dead, are but Coincidental and Therefore Unintended by the Author, Who Nevertheless Intended Everything Else."
"How about Vampire High School?"
"It lacks gravitas, but, of course, I am new to these matters. I beg you, tell me: what did you think?"
Mackay-Whyte reached again into his wallet and this time removed a small scroll of vellum, banded with a ribbon of purple velvet and sealed with his own signet. He gave the scroll to Boodles.
Boodles, his brow furrowed, broke the seal and unscrolled the vellum. He strode across the chamber and stood next to his lamp, which burned with a steady flame and the smell of a dead whale that had traveled thousands of leagues in the hold of a ship. He read intently.
"How dare you say these things?" demanded Boodles when he was done. "That my characterization is hollow, my story is incredible, and my moral failings are manifold. And how can I have written a cliché—when I have written the very first of its kind?"
"Others will do it, too, and better," replied Mackay-Whyte coolly. "You will be remembered, I fear, as the thick-fingered laborer who built the foundation for the gilded palace."
"And what's this? Readers who have eagerly anticipated the creation of a new Art, in the form of the Novel, may find themselves thinking that the old Arts aren't so bad after all. It was you, Mackay-Whyte, who thrust the mantle of creation upon me!"
"Not every man is born to greatness."
Boodles, who had been roseate-faced with rage, was slowly growing pale. Trembling, he lowered himself to the couch. The pages slid from his lap to the floor unnoticed.
"You wound me, sirrah!" he cried. "You have savaged me! Not even Lord Kirkus could have chosen words so unkind."
"You have done it to yourself," said Mackay-Whyte. "True, I encouraged you to write, but I cannot recommend what you have written for a general reading audience."
Boodles' breathing became shallow. His eyelids fluttered. "I gave you the first Novel, and you—what have you done?"
"I have written the first book review," said Mackay-Whyte.
Boodles' eyes bulged. After a death rattle that sounded like a maraca, his breathing stopped and he grew still. Within moments, his features resembled those of a wax effigy.
Mackay-Whyte crossed the room, thinking that, if the tableau were a painting, its composition was poor. Closing his friend's eyelids, he kissed him, murmuring, "Goodnight, sweet poetaster."