Reading Is My Business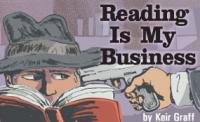 Printer-Friendly Version
Knitting. If the guys in Kandahar could see me now, I thought. On the other hand, I learned how to make a pair of hunter's-plaid slipper socks that were just darling.
I WOKE UP SOMEWHERE UNDER THE LOOP. I was lying across two handicapped seats in a southbound Red Line train. I got off at the next station, crossed the platform, and got on a train going north. The people in my car looked as miserable as only Chicagoans in late February can look. I caught a glimpse of my reflection in the window. I made the miserable people look like they were at Mardi Gras.
I got off at Chicago Avenue and rode the escalators up to the street. On the second one, I became fascinated by a guy who stopped walking 10 feet from the top and stood poised like he was about to jump out of an airplane. He didn't look like a tourist, but you never can tell. He made the landing, but I can't say the same for myself. I was so busy watching him that I stumbled where the escalator met the sidewalk and fell headlong. I'm a pretty big guy, so I think it made an impression.
"He doesn't look like a tourist," I heard someone say.
I collected my bag and climbed to my feet. The sunlight looked like day-old piss and was just as warm. The sidewalk was a stew of rock salt, mud, and melting snow. My left foot felt wet. I looked down, thinking I'd blundered into some dog shit. It was even worse: I was missing my left boot. It must have happened during the train ride. But who needed a size-12 mukluk? And why would they take the one with the hole in it?
I turned right on Wabash and hoofed it the two blocks to work. The good part about having a soaking, freezing foot was that it took my mind off the gong clanging inside my skull.
Jessie, the guard, is a sweet, grandmotherly thing unless you're looking for a place to sit down. Once I watched her, all of five feet tall, give the bum's rush to a couple of well-traveled outdoorsmen who wanted to savor their cigarette butts on the front steps. I had planned to offer her a hand, but by the time I got there, I felt so bad for the bums that I slipped them a five when she wasn't looking.
I flashed Jessie my ID and a hopeful smile as I lurched through the door. She frowned, but she let me in. Lucky thing because I lost my ID six months ago. But I find that an expired Sam's Club card works in a pinch.
I gasped my way up the back stairs, then took the long way around to my office. It was wasted effort: taped to my computer screen was a full-page note: MY OFFICE ASAP. I recognized the handwriting on the hieroglyphic. It belonged to my boss, Bill Ott. I tore the note off, crumpled it into a ball, and shot it in an extravagant arc toward the wastebasket, tongue dangling and wrist flopping just like Jordan used to do it. I pumped my first—swish!—and looked up to see Ott standing in the doorway.
Ott was old-school, by-the-book, and any other hard-tack cliché you can think of. My head hurt too much to come up with a fourth.
"Jesus, Graff," he said, shaking his head. "What time did you quit drinking?"
Define "quit," I wanted to say. Instead I fished a tin of Altoids out of my desk drawer and popped two.
"Just coming to see you," I said.
He nodded at the breath mints.
"Those might do you some good if you used them like soap."
I popped a third, grinding it between my teeth. I'd actually quit drinking last night—sometime around 3 a.m.—but in my mind I had already poured my first of the morning. As a rule, I don't drink at my desk, but sometimes you have to sand the edges off, particularly if you were on the job until the wee small hours, knee deep in blood, guts, and double-crosses.
Ott pulled out a chair, looked at the upholstery, and thought better of sitting down.
"As much as I enjoy anticipating your repartee," he said. "I'll make this quick."
I sat down, peeled off my soggy sock, and slipped my left foot into one of the brogans I kept under my desk. I rolled up my sleeves, losing a button in the process, and wiggled the mouse to turn off the screen saver.
"Let's have it," I said.
"Michael Connelly's writing a book for Hard Case Crime," he said. "Big star, hot publisher, huge story."
"Sounds great," I said. "Let me at it."
"We can't find the galley," he said.
"So tell them we want another one."
"I need the review tomorrow," he said. "My moles tell me PW, LJ, and Kirkus have already gone to press with this one, and we can't let them scoop us. So: find the book. Write the review. Have it on my desk at 8 a.m. tomorrow. That's"—he looked at his watch—"22 hours, give or take."
"On your desk literally, or—?"
"Figure of speech," he said. "Just get it in the database."
"No problem, Chief," I said. Warm relief flooded my body. He wasn't firing me, after all.
"Or you're fired," he added.
The relief turned cold and I shivered. Ott left. But still, how hard could it be to find a missing book in an office . . . jammed to the rafters with thousands of books? I opened my bottom desk drawer with a toe. This required a fairly coarse grain of sandpaper.
I'M A BOOK REVIEWER. I cover the crime beat.
Like any red-blooded American man, on Wednesday, September 12, 2001, I was waiting outside the nearest U.S. Marine Corps recruiting office when it opened. I was upset, and I wanted to express my feelings to the responsible parties. Unfortunately, the Navy doc sent me home with "4F" stamped on my forehead in red-white-and-blue indelible ink. My vision was fine and I passed the piss test, but when he saw that I had seven toes, he said they'd never be able to find a pair of boots that fit me.
It sent me into a funk. I spent a few months reading comic books in the Uptown library before I saw an ad in the back of one of them: GET PAID TO READ BOOKS. I still wished I was hunting mullahs in Afghanistan, but my landlady was starting to show other people my room, sometimes when I was still in it.
The interview was brief. A lady with a beehive hairdo asked me if I knew how to read and write. I said sure. She made me prove it. Then she handed me a stack of books about knitting and told me to get to work.
Knitting. If the guys in Kandahar could see me now, I thought. On the other hand, I learned how to make a pair of hunter's-plaid slipper socks that were just darling.
I did my job and kept my head down. Six months later, I got promoted to arts and literature. Six months after that, Ott called me into his office and told me the previous crime reviewer had been shit-canned for stealing. He wanted to know if I was up to the job. I said sure, and he handed me a stack of a dozen books. I kind of felt like there should have been a ceremony or something, but there you have it.
It was a good beat. Sure, Hammett and Chandler are dead, but by way of consolation I had Box, Shannon, and Steinhauer. I spent my days—and nights, too—reading about petty larceny, grand theft auto, and garden-variety murder. But this was the first time I'd ever been asked to investigate a missing mystery.
YEAR IN AND YEAR OUT, we're mailed something like 60,000 books. From the mightiest publisher to the guy who prints books in his garage, everyone wants a piece of Booklist. We have room to review about 8,000 of them. If you like those odds, stay away from the racetrack. But even though the constant flow of books reminds me of the conveyor-belt scene in I Love Lucy, there's a method to it. We have procedures. After all, when some unlucky chump calls us to ask when his book will be reviewed, we need a reliable way to break the bad news.
When a book comes in the door, if it looks like a book we might need to look at—that is, it has a cover and pages and the words aren't written in crayon—it goes on a truck. An editor takes a look at the truck and culls it again: books to review and "low priority." Low priority, or LP for short, is just our friendly way of saying we won't be getting around to your book, ever. Maybe that sounds harsh, or maybe we just don't need a 1,000-page political thriller where the assassin is a reincarnated Egyptian god with the head of a jackal.
Actually, that sounds kind of interesting.
"LP walking!" call the grunts on the line.
But all the books except the crayoned ones get logged in the database. That way, when some chump . . . you get the picture. Now, a Michael Connelly book doesn't just get casually put aside. It goes on top of the stack of books that need to go into the database. There's a record. So that was my first stop. Almost.
First I deleted my e-mails and played a few dozen hands of online poker. The dealer was "Cayman Jimmy," and he took a nice debit from my bank account before I logged off. Then I logged into the database and searched Connelly, Michael. I got 28 hits. Mike's a busy guy. But none of the records showed Hard Case Crime as the publisher.
So either the book hadn't come in or it hadn't been put in, and either way, I didn't have a paper trail. Or an electronic trail, whatever you want to call it. Suddenly I wished I hadn't wasted half an hour playing poker.
I decided to have a talk with Horse Plowman, the kid who sits across from my office. "Horse" isn't his real name, of course; it's "Horst." But take a look at the kid and you'll see why he got the nickname. He's about six-two and 220, a strapping farm kid from Missouri with a pie-pan face and a push broom haircut. Apparently he had a high-school teacher who thought he saw talent and told him to light out from the territories. And here Horse was, an editorial assistant at a real, live book-review journal. On the side, he wrote World War II pulps—nobody ever told him that that war was over.
"Horse, follow me," I said, as I gimped by his desk.
Horse dutifully rose and followed me around the corner, past our 30-foot-long set of bookshelves, and into the emergency stairwell. As the fire door closed, he looked at me expectantly, right in the eyes. He never saw the rabbit punch I threw at his kidneys. He gaped and I took advantage of it to box him on both ears, first the right, then the left.
"Geez, Mr. Graff!" he yelped.
Horse has about two inches and twenty pounds on me, so I hit him a couple more times to make sure he was paying attention. I feinted with my left and then hit him on the left cheek with a roundhouse right that wouldn't have won a round in the Golden Gloves, but it was enough to sit Horse down on the stairs. He looked around, tracking invisible asterisks and tweety birds.
"What'd you have to go and do that for, Mr. Graff?" he asked. "That really hurts."
"I'm only going to ask once, so think hard before you answer," I said. "Where's the new Michael Connelly?"
Horse looked at me like—well, like your 4-H cow would—and started talking.
"I don't need to think about that one, Mr. Graff," he said. "I haven't seen a Connelly since The Overlook. You know I'd remember a thing like that."
Honesty and a reasonable answer were the one thing I hadn't prepared for. I raised my fists again and then dropped them when I realized I didn't have a follow-up question worth asking.
"You sure?" I said lamely.
"Sure I'm sure," he said, indignation starting to well up between his cauliflowered ears.
I helped him up. "Sorry, kid. Can we keep this between us?"
"I guess so. I sure don't want anyone to know that an old guy like you got the drop on me."
I let that one go. As long as he didn't run crying to Human Resources, I could take it.
Back in my office, I picked up the phone and dialed the offices of Hard Case Crime. A sweet young thing by the name of Rachel Darias answered. Her voice had a little bit of that Kathleen Turner huskiness to it, but you already knew that I'm partial to sandpaper.
"Good morning, Pumpkin," I said. "Graff here, Booklist."
There was a pause. I guess she was checking her watch because she informed me that it was no longer morning in New York City. A regular semantician.
"Listen, about the new Michael Connelly. We never got it."
"Please hold," she said. But she didn't put me on hold. I could hear her breathing as she cradled the phone against her shoulder. Then I heard a farting sound as she riffled through an index card file. That's one old-fashioned outfit.
"Thank you for holding," she said. "We sent that 10 weeks ago."
"Well, we never got it," I growled. "And we need it today. Maybe you could put someone on a plane . . . ?"
"I have the return receipt right here. It was signed for." Her voice was annoyed but indulgent at the same time, the tone you take with a five-year-old who's holding a nice piece of crystal out the window.
"By who?"
"'By whom'," she said. "I can't make it out. The penmanship of the party in question is appalling."
"Any letters at all?"
"I think it starts with a Q," she said, "but I couldn't testify to it in court."
The Quick Queen of Quincy and her Quacking Quackeroo, I thought. Or maybe I said it, because she asked me to repeat myself.
"Dr. Seuss," I said.
"Definitely not," she said.
I hung up. I slid open my desk drawer, looked at the bottle, and slid the drawer closed again. I went to the water cooler and drank a cup. I went into the bathroom and looked in the mirror. I washed my face and looked again. Ott was wrong: the Altoids weren't any better than soap. I looked like death warmed over in an oven with a gas leak. How had it come to this? Why couldn't I have chosen something else—say, soldiering—instead of reading?
Oh, right.
It was practically lunchtime, so I headed up State Street to Mike's Fast Food. Actually, Mike's is owned by a woman who calls herself Mama. As far as I know, Mike's out of the picture.
Mama was behind the bar. She greeted me the way she usually does, by pouring me a boilermaker and calling to Miguel, the short-order cook, to make me a patty melt. I suddenly wondered if Miguel was really Mike, but I couldn't picture him giving Mama the business.
I sat down and sipped my shot. Mama looked at me and shook her head sadly.
"What's-a matter, special boy? You-a seek?"
Mama talks like a Greek stereotype, but I'll spare you the rest of the transcription. She's another tough broad. Don't take my word for it: ask her and she'll show you the scars under her collarbones where the bullets went in.
If you're wondering about the "special boy," bit, I can't help you. That's just what she calls me: "Mama's Special Boy." It's not like I commute to work on the short bus. But what Mama says, goes. Sometimes I wondered if I should marry her or Jessie. Marriage can be built on a lot of things, right? At least I'd feel safe.
"I'm not sick, Mama," I said. "Rough day ahead."
"Then drink, Special Boy, drink. The liquor make you strong."
They must look at things differently in the Greek Isles, but I never argue with Mama. I drank.
So the book had come in 10 weeks ago. It had made it into the building but not into the database. I tried to imagine the path it had taken. If it was signed for, then it was sent special delivery and came in not through the loading dock but the lobby. Archie or Jessie would have signed for it. But an A or a J doesn't look like a Q.
Ten weeks ago would have been right before Christmas. I knew that because I did the math on a napkin. Between the association Christmas party, the publishing-department Christmas party, and the Booklist Christmas party, I'd been hitting the nog pretty hard. Ott had been on my back because I'd reviewed a Ken Bruen as if it were a Bill James and a Bill James as if it were a Ken Bruen. Hey, that's what editors are for, I told him. It wasn't as if we had an Allan Guthrie left over.
Somehow Ott failed to see the humor in it. "You're your own worst enemy, Graff," he told me. He also told me he wasn't going to fire me because it was Christmas. He threatened to fire me a lot, but there was always an extenuating circumstance: Christmas, the Fourth of July, Halloween, Pulaski Day. The truth was that he needed me. There aren't a lot of guys who, drunk or sober, can tell the difference between hard-boiled and merely well-done.
The Booklist Christmas party had been the wildest of the bunch. About a half-hour before closing, Mary Ellen Quinn came through the office, pushing the little drinks cart that's been hidden in the AV closet since the days of 16-millimeter films. We put on funny hats and started mixing cocktails in paper cups. When the ice ran out, we skipped the mixers. Ben Segedin played Santa. Ray Olson recited a little poetry, although not little enough.
I told a dirty joke to Laverne Lively, our romance reviewer, and got a drink thrown in my face for my trouble. I ended up in a card game with Carlos Orellana and Ian Chipman. I remember endorsing my bonus check, but I don't remember much after that. Next thing I knew, I was walking down Michigan Avenue, singing "MacPherson's Lament," freezing my ass off, and looking at all the pretty lights. A friendly policeman goosed me with his nightstick and told me I was a half-step flat. I could have sworn he winked.
Back in the present, despite the search for the missing galley, I had other reading to do. When Mama left to serve her other customer, I reached into my overstuffed bag and pulled one off the top—the new Walter Mosley. I sighed. I missed Easy Rawlins. With Mosley these days, you never knew if you were going to get sex, science fiction, or a sermon—or all three at once. Cracking the spine so the book would lay flat, I took a drink and got started, not stopping when my food came, just dog-earing the pages I wanted to remember with greasy fingers.
Drinking at Mama's was a tricky proposition. She always insisted on buying the fourth round. If I wasn't in the mood for four rounds, I had to make sure to excuse myself after two, because if I bought a third, she was buying the fourth and no excuses. Given the day I was having, I let her have her way with me. Ninety minutes and ninety pages later, I sloshed out onto the sidewalk, half-blinded by the feeble daylight.
BY THE TIME I GOT BACK TO THE OFFICE, I was too winded to take the stairs. I regretted my weakness as soon as the elevator doors dinged open on the third floor. That noise is like catnip to Ott. He stuck his head out of his door before I'd stumbled twice.
"Did you find it?" he asked. "Or am I going to have to fire you?"
"I'll be working here for a long, long time, Chief," I said with what I hoped was believable confidence.
He didn't believe me, but he pretended he did. We both walked away scratching our heads.
I fell into my seat and stared at the screen. It beggared belief that a Michael Connelly would have slipped into the limbo of nonselect or low priority, but it was a theory, and the only one I had. The nonselects would have been given away weeks ago—there would have been no way of finding it short of buttonholing each of the 250 people who worked in the building. There was, however, a slight chance that it hadn't been logged in but was still waiting on an LP truck to meet its final fate.
It occurred to me that I didn't even know the title of the book. Some sleuth I was. I brought up the Hard Case Crime Web site. Sure enough, there was a press release touting their soon-to-be-published hot property, Dial O for Bigelow, by Michael Connelly. The cover was top-notch: a blonde holding a cigarette and smoking a gun. Or maybe she was holding a gun and smoking a cigarette. I'm pretty sure she was blonde. The cover looked familiar. I'd like to say it was because the painted lady looked like my high-school sweetheart, but the only time I've been in the same zip code as a figure that memorable, I was a paying customer. (Get your mind out of the gutter—she was a cocktail waitress.)
With her face fixed firmly in my mind, I began prowling the office like a jungle cat, pawing through the trucks like a, well, like a hungry jungle cat. Three hours later I had three chapped fingertips, two paper cuts, and one hell of a crick in my neck. I still hadn't seen the blonde. I went back to my computer and printed out the book cover, then went office-to-office, showing the dame to everyone. I got several low whistles and one threat of a sexual-harassment grievance, but nobody else had seen the book, either.
I was getting hungry, but I was getting nervous, too. Ott had made a lot of idle threats in my direction before, but one of these days, he was bound to deliver, if only to get rid of the feeling that he was repeating himself. I went down to the cafeteria and bought my dinner from a vending machine: pretzels and a vacuum-sealed bag of grandma's homemade cookies. While I ate, I amused myself by pacing the room, then stopping suddenly and whirling around, trying to catch the paintings of past presidents looking at me. I never caught them, but I could feel their eyes on me just the same.
I washed down dinner at my desk with three fingers of Walgreens' finest mouthwash. Actually, it's Scotch, but good luck telling the difference. Something was bugging me: How did I get from the Christmas party to Michigan Avenue without me knowing it? I've blacked out before, sure, but I've never woken up on my feet.
I remembered the glints in Orellana's and Chipman's eyes as they haggled over my bonus check. One of them sported me a drink, I was sure of that much, although, thinking it over again, it seemed likely that the drink came from the bottle I'd brought to the card game. I had a grainy memory of stumbling down the hall past all the framed Booklist covers—it seemed like an outtake from an Oliver Stone flick—then there was a smash cut to Orellana's face, head thrown back, laughing. We were out on the sidewalk. We argued. And then I was alone, on Michigan, with a cop strolling up behind me.
The words "get started" echoed in my head. But who had said them? And why?
I went to the bathroom and used the toilet, sneaking in so the mirror wouldn't see me. While I was crouched down on the floor washing my hands, I had a brilliant idea: if I retraced my steps, maybe I could find out what I was doing in the lost time. It had fuck-all to do with finding the Connelly, but it beat waiting around to get fired.
I got my desk bottle and went down to Orellana's office. It's so dark in there that it gives me the heebie-jeebies. You think you're stepping into an empty office to drop off some mail, and then all of a sudden, this deep voice booms out of the shadows and you realize you're not alone. Fortunately, it really was empty. I turned on his desk lamp—I had no idea they manufactured 15-watt bulbs—and took a deck of cards out of my backpack and shuffled it. I played stud poker against the house for a while and lost. Then I dealt out solitaire and lost that, too. I was working on the bottle pretty hard. When I woke up with my head on his desk, I thought: This is it. Get on your feet.
Navigating the darkened offices with a skinful of booze was like walking the deck of the Flying Dutchman. But in the main hallway I felt it again: that weird déjà vu. My scalp prickled.
Then Ott stuck his head out of his office and broke the mood. "Are you working, or are you clearing out your desk?"
I shook my head until the stardust was emptied out and scattered around my feet. "I was following a lead, Chief," I said. "But I may as well give it up. The trail's cold."
He shook his head, too, but there wasn't any sparkly stuff coming out of his ears. He looked like a man whose generally low opinion of someone—me—had finally been confirmed.
"Nice knowing you, Graff," he said. His head went back inside his office.
I collected my bag, shoving in a few first editions I thought I could pawn, and took a last look around my office. I thought about sending someone for the rest of my stuff, but aside from empty bottles and a broken radio, all there was was books. And in my current state, I figured it would be quite a while before I'd have any stomach for reading.
I took the elevator down. Archie had come on shift and was sitting at the desk, reading a copy of Vine Line, the magazine they send to Cubs fans. The opening editorial is usually something along the lines of don't kill yourself. We talked baseball a little while and then, on a whim, I unfolded my copy of the cover of Dial O for Bigelow.
"Seen this?" I asked.
"Sure I did," said Archie. "Oh, about, I guess it was 10 weeks ago. You were stumbling out of here and arguing with Ian and Carlos when you saw this sitting on the desk. You said something about how you couldn't wait to get started on it. You took it, and you even signed for it, too."
Standing there with my hand on the desk, it was like one of those TV shows where the medium touches a highly charged object at the murder scene and is transported back to the dark and stormy night when the murder took place. Suddenly I was drunk again—well, drunker—arguing with Carlos and Ian about the first stop on our pub crawl. Also about who would buy the drinks, since I'd lost all my money at poker. Archie was there, too, but he was wearing a Santa hat, and he was surrounded by a deadly-looking web of cheap flashing Christmas lights.
And there, on his desk, was a copy of Dial O for Bigelow, with the name Michael Connelly bigger than the title. There was the blonde, the cigarette, and the gun, all of them arranged in a way that made sense. The book was lying neatly on an opened FedEx envelope, as if someone had opened it by mistake and then put it back.
"Jupiter's Ghost!" I heard myself say, and I saw my hand reach for the book.
And then it disappeared. Archie was snapping his fingers in front of my face, and I was standing there like a dummy, my fingers closing on empty air.
"You better sleep it off," Archie told me.
I nodded. I stumbled out. The fresh air hit me like a wet rag. Now it was raining. February in Chicago. You can't beat it.
I stumbled to the curb and sat down, my feet splashing in the slush. I wondered where I'd lost my right boot. I was down to one brogan and one sock.
I had taken the book. Hell, I had the book. Where the hell was it?
I unzipped my bag and started digging. Some first novels, a little nonfiction, a book I should have turned in two weeks earlier. I heaved them all out onto the curb, crazed, ignoring the rain. Old newspapers, a coffee cup, an empty tin of Altoids, a warm can of beer, a scarf that Ilene Cooper had knitted for me two years earlier. Even in the rain I could feel myself sweat. The bag was practically empty. I pulled it apart and peered in, using a double-parked truck's flashing hazard lights to help me see. I reached my arm in, all the way up to the shoulder.
I felt a book. A paperback. I yanked it out. I saw a gun holding a blonde smoking a cigarette. I didn't even care what order they were in.
I tilted my head back and howled, my voice echoing in the concrete canyons like a betrayed action-movie hero.
Behind me, the revolving doors swept around. I turned. Ott was coming out, his hat pulled low, his overcoat buttoned. We eyeballed each other. Then, slowly, I raised the book and waggled it.
He shook his head as if his reluctantly high opinion of someone had been confirmed yet again.
"See you tomorrow," he said.
"See you tomorrow," I said.
He hailed a cab. "Union Station," I heard him tell the cabbie.
Slowly, I gathered my wet stuff off the pavement and put it in my bag. The Connelly I put in my hip pocket.
I walked up to Chicago Avenue, stopping at the liquor store for a bottle of Four Roses before I went down to the subway. I still had to read the book and write the review. It was going to be a long night.

First published May 1, 2008 (Booklist)
© 2008 Keir Graff