The Other Felix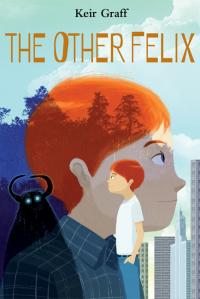 Named Best of the Best by the Chicago Public Library!
A story of growing up—for kids who have graduated from Where the Wild Things Are but are still fascinated by the world of dreams
Felix has nightmares. Every night when he falls asleep monsters chase him through a wild, lonely land, and when he wakes up he's back in his bed with mud on his feet and tears in his pajamas. His parents are too busy with work to understand, and the bully at school thinks Felix's fears are funny.
But one night Felix meets a boy who knows how to fight monsters, a boy who looks just like him and is also named Felix. Debut children's author Keir Graff crafts a fantastical, psychological novel about dreams, survival, and taming the monster within us all.

Learn more!
Discussion and Activity Guide for Classroom Use (PDF)
"Keir Graff: Accidental Children's Author"
"Books by Booklist Authors: The Other Felix" (Booklist)
"Talking about Monsters Isn't So Scary: My First School Visits" (Get to the Point)
"A Little Boy's Nightmare Is a Dream Come True" (Prairie Wind)
"Booklist Editor/Children's Book Author Chats over His Morning Coffee" (SCLS Youth Services blog)
"
This thoughtful, whimsical story promises rewards for those patient readers who stick with Felix till the end.
"
"
[Graff's] skill at capturing the small, everyday details and dramas that loom large in children's minds, as well as his avoidance of a too-neat ending, ought to linger with readers who share Felix's introspective nature.
"
"
The story has a beautifully crafted innocence reminiscent of
The Little Prince
.
"
"
The ending is exquisite.
"
"
Quiet, unassuming, and plagued by realistic and universal insecurities, Felix is an amiable protagonist to whom even more boisterous youngsters will readily relate.
"